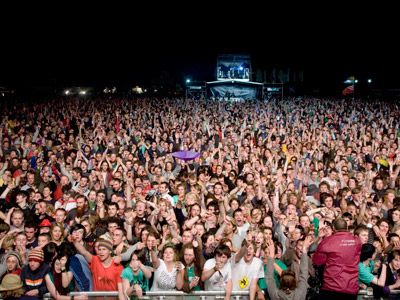 Here's some acts that we at the Chop Shop think u should be checking out at this years Electric Picnic festival in Stradbally House next weekend.
FRIDAY
The first act we recommend is one that we think will one of the festivals highlights this year.
Janelle Monae
is not your typical R&B/Soul artist. Her debut album "The Arch Android" is about as diverse as a David Cronenberg movie and her live show promises to be much the same.
Kormac
and his
Big Band
have become regulars at the Electric Picnic now. The Dublin born turntablilist has come up under the Body Tonic umbrella of talent and has gone on to become a name in his own right, blending his turntable skills with the big band sound to produce a highly energetic show.
SATURDAY
Next up we have Corks very own
Brian Deady
. The boogey, soul and electro funk artist debut album "Interview" has gone down well with music heads across the country as well as picking up some heavy rotation on some west coast radio stations in the States. A must see for fans of good music.
I'm sure by now everybody has heard of the
Hypnotic Brass Ensemble
, Chicago's 9 piece brass band. There performance energy is highly contagious, delivering a live show that has to be seen at least once in your lifetime.
Gil Scott Heron
, the poet, author, and spoken word artist has been a part of black music culture since the 1970's and has been associated with militant activism with song such as "The Revolution Will Not Be Televised" I for one (if i was going) would not be passing up this chance to see the living legend.
K'naan
, the Somalian born rapper/reggae artist has been bubbling around in the music scene for the past few year but recently shot to even more fame when he was tapped by Fifa to supply the theme tune to this years world cup in Africa. If you like your live shows with a bucket load of passion and energy this one is definetily for you,
SUNDAY
To me
Mr Scruff
is what djing is all about. His live sets take you on a journey with through everything from funk, soul, jazz, reggae and everything else in between. Always a joy to see.
Dam Funk & Master Blaster
will be bringing there gospel funk sound to a stage near you on Sunday, you couldn't of picked a better day for it. Everybody has to attend the Church of Dam Funk for an 80's electro, analog, synth oddessy.
And last but not least we have
Beardy Man,
this London born performer has taken beat boxing to another level, with his use of loop stations and efx modules he re-creates classic tunes with his own twist. Another show not to be missed.
There ya go folks, now we can't make any promises when it come to the weather for the weekend (although it is looking good) but i promise you this, if you see any of the acts on this list you will not be disappointed.